The Silph League connects Pokemon GO communities worldwide into a global player network. This past weekend an astounding number of travelers around the world volunteered time and energy as staff to help other travelers receive the Shiny Dratini Silph League Badge at their local meetups for February Community Day: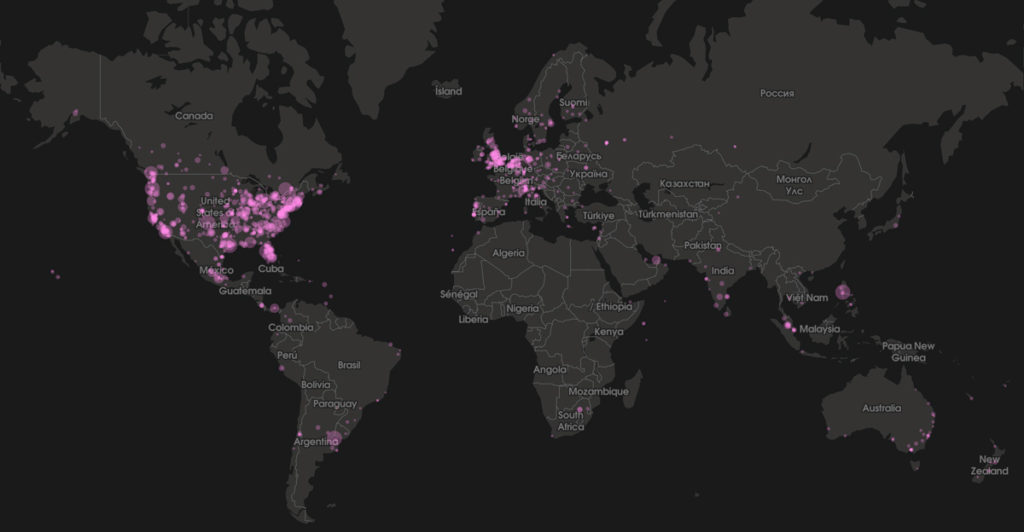 Take a look at the League network's participation and growth this past weekend, travelers!
League Stats for the February Community Day League Event
Here's some key indicators of the growth of the League around the world:
| | |
| --- | --- |
| Communities That Checked In (Non-Staff) Travelers | 1,448 |
| Staff Who Checked In At Least One Other Traveler | 3,380 |
| Average Staff Volunteers Per Community | 3.8 |
| Average Check-Ins Per Community | 16.5 |
The Total Number of Shiny Dratini League Badges Earned:
22,449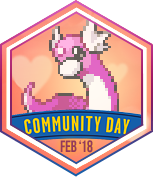 These staggering figures represent a 70.4% increase in badges awarded compared to January's event and a 53.3% increase in the number of communities participating.  (These figures exclude communities with very few members, or those who only checked staff in!)
Visualizing League Participation
Now what's a geolocated network report… without a state-of-the-art data visualization?
You can explore this map plotting all League check-ins around the world, travelers! Try fullscreen on for size, and click the geolocate button to zoom to your location!
Finally, click any pink dot to view the check-ins at that location on Community Day!
Clearly the League is growing to include communities in every corner of the world. But there is still room to grow! Are you a community leader in your area? Add your community to the Silph League here, or start your own and join, and take advantage of League benefits at the next League event!
Remarkable Communities
Of the nearly 1,500 communities participating in the global League event, a few stood out as particularly remarkable. These groups put a lot of manpower and planning into serving the travelers in their areas and we wanted to give them a little recognition for their impressive accomplishments this past weekend:
League Community
Check-Ins
Pokemon Go: Philippines
466
Silph Road – Houston
329
Portland Pokemon Go
325
PGO Detroit
223
Pokemon Go Raids (Connecticut)
220
Silph Road Southwest Leadership
207
PoGoTampaBay
193
GVRD PoGo Collective
177
Pokémon GO Ottawa
176
PoGo OC
157
NidosPokemonGOArg
156
Irvine/Tustin PoGo Raiders
156
A Peek Into League Meetups Around the World
Community leaders held meetups around the world on Community Day – and we wanted to share a few of our favorite pictures they shared within the League! The physical swag, snacks, and creative goodies were impressive. And the variety of weather conditions make this photo roundup a powerful reminder of the global reach of the League.
We can't wait til next Community Day.  We'll have some exciting new announcements for the League by then… But in the meantime, enjoy the photo roundup!
Update at 2018-02-28 17:23:00: Map totals and top community counts originally included combined check-in counts for Jan+Feb. Now only February data is shown!