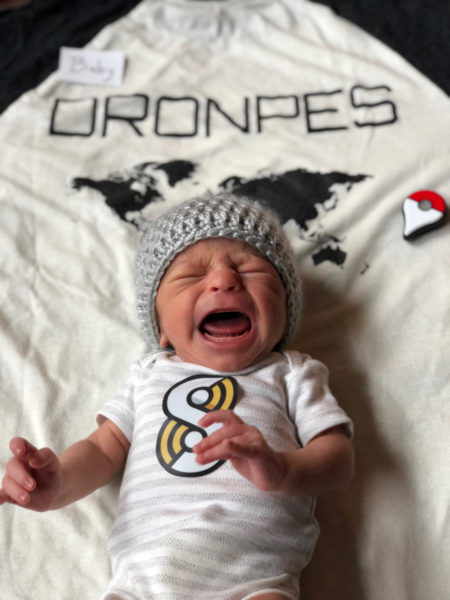 I just wanted to share a rare personal note with the Road today, travelers. It's been a whirlwind of a week for the Silph Road team!
MrsDronpes and I are now the proud parents of a 5lb 12oz burrito! We've actually wanted a kiddo for the past 5 years, so this little one is somewhat of a miracle of science, persistence, and sacrifice – mostly on the part of MrsDronpes. Many of our newer faces may not know this, but she's one of the Road's biggest supporters and has been a critical force in the creation and growth of our community. We all owe her a great deal, but nothing topped her personal sacrifices for my little family this past week as she battled with preeclampsia, long painful labor, and eventually a frightening emergency surgery. In the end, baby and mamma are doing well in recovery and in great spirits. 🙂
A Personal Request
Our culture here on the the Road is, to me, one of the main reasons the Silph Road team continues to volunteer time and resources to grow and foster our forum, resources, and community. Early on, we made the decision to make our community a *different* type of gaming community from the ones we all commonly see. We decided to commit to fighting the difficult uphill battle to create and foster a community of accurate information and friendly help. We don't always prevail (looking at you, early EX Raids!), but we never give up. Every week for over 2 years now I have personally spent a great deal of time each week working to keep the Road a welcoming resource for GO enthusiasts of all skill levels to come and learn.
For the next few weeks I'll be stepping back my professional and hobby time commitments and giving MrsDronpes and Dronpes Jr some much deserved support and family time. I'll be back soon, and I'm leaving things in the capable hands of the other Silph Road Executives and leadership, and our awesome mod team.
But I'd like to make one personal request: while my focus is drawn elsewhere for a bit, I'm calling on all our travelers to please help the Silph Road team and our mod team to foster the type of culture the Road aims for – one of friendly help and more valuable discussion. Help answer honest questions, help counter excessive downvoting with your upvotes, share useful resources, and report rudeness and elitism on the subreddit to the mod team so we can show those visitors the door. Hundreds of new travelers discover us for the first time every day. (Welcome!) There is no place for elitism and belittlement on the Road.
At the end of the day, we're here for the nostalgia or love of a game, travelers. Some of the most meaningful memories we'll take away from this journey will be the ones that came about through camaraderie and kindness. The Road has been a meaningful operation for myself and the Silph Road team – and we have some exciting things on deck for our travelers. 🙂 The team will still be moving forward while I duck out for a bit, and I'll be back as soon as life is less of a whirlwind! Our sources indicate there's some exciting things coming to Pokemon GO soon. I can't wait to dive in with you all soon.
Travel safe,
– Executive Dronpes –
p.s. I think this pic is a good indication of how full my hands are at the moment. 😉