For three hours last Saturday the world was flooded with Charmander as local player groups held neighborhood events across the Silph League.
This month a Shiny Charizard Silph League Badge was the collectible memento earned by attending a meetup and checking-in. The Silph Road team has concluded our post-event analysis of May Community Day. Let's take a look!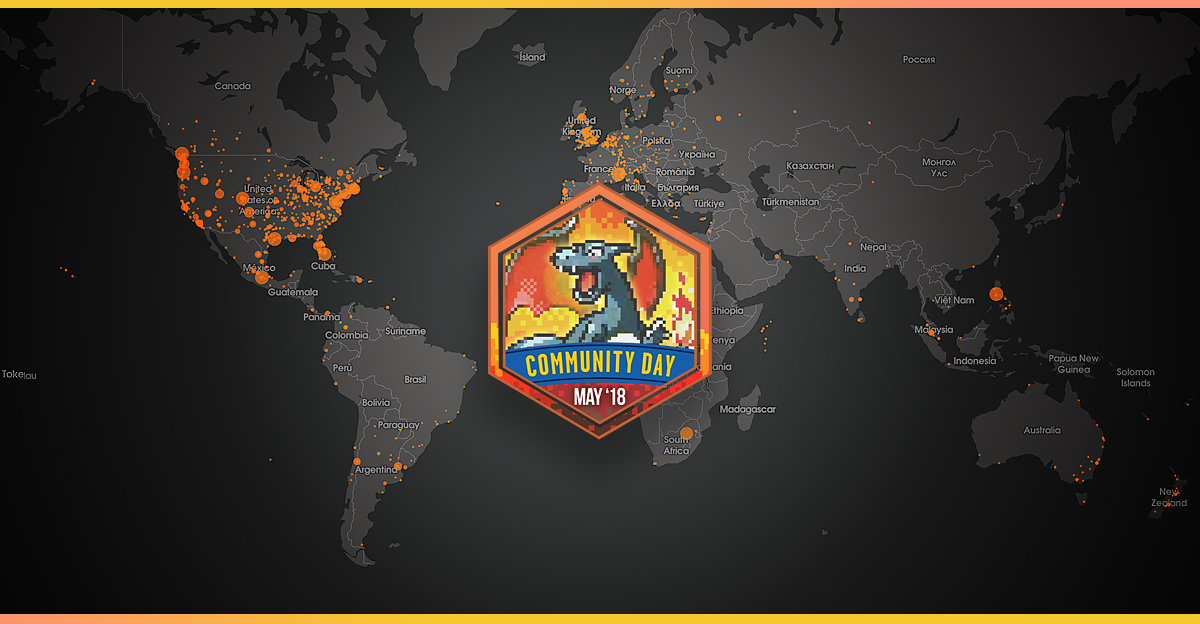 League Stats for the May Community Day League Event
Here are some of the key indicators we observe that show the participation and activity in the League around the world:
| | |
| --- | --- |
| Communities That Checked In (Non-Staff) Travelers | 1,995🡅4.0% |
| Staff Who Checked In At Least One Other Traveler | 4,337🡅1.9% |
| Average Staff Volunteers Per Community | 3.8 |
| Average Check-Ins Per Community | 13.9 |
The Total Number of Shiny Charizard League Badges Earned:
27,658🡅4.9%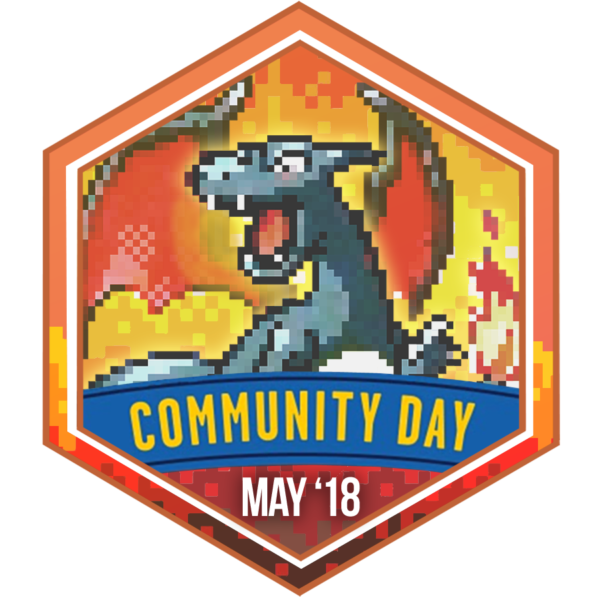 Outstanding, travelers. Month-over-month, ever more local player groups (and their awesome staff!) have joined the League. May was no exception! We saw a nearly 5% global increase in travelers checked-in around the world! (These figures again exclude communities with very few members, or those who only checked staff in!)
Visualizing League Participation
Time for the League check-in map! You can yet again toggle between previous months to compare check-ins over time. (And don't forget to click the 'geolocate me' button to zoom to your location, or the fullscreen button if you want to play with a larger map)!
Clicking the dots will show the meetup check-in counts at that location.
At this pace, we'll soon break 2,000 participating local communities at Community Day events, travelers! The Silph League now represents one of the largest boots-on-the-ground volunteer-run events in the world, with over 4,300 volunteer staff helping provide League benefits to their meetup attendees. Keep spreading the good word, travelers. We've got great things in the works. 🙂
Are you a community leader in your area? Add your community to the Silph League here, or start your own and join, and take advantage of League benefits at the next League event!
Remarkable Communities
Nearly 2,000 communities authorized staff and organized their volunteers, but 15 communities in the League this month checked-in over 200 travelers at their meetup through a coordinated volunteer effort! We want to give these local groups a little recognition for the volunteering effort they coordinated for their local communities and their awesome participation in the League:
League Community
Check-Ins
Silph Road – Houston
609
Pokemon Go: Philippines
481
Pokémon Go México: Liga de Campeones
417
PoGO DMV
409
GVRD PoGo Collective
363
Portland Pokemon Go
334
POKEMON GO TORINO
300
Pokemon GO Colorado
289
Miami Pokémon Masters
285
PoGo Wakanda (South Africa)
277
PGO Detroit
236
TSR Rhode Island
229
Pokémon GO NYC Community
218
Pokemon GO Tacoma
213
Pokemon Go Raids (Connecticut)
211
Highlights in League Meetups From Around the World
Stories and pictures from League communities are the best part of Community Day events. We received so many photos of communities around the world this month, it's difficult to select a few to feature! Next month, we'll feature stories and anecdotes from around the League. But here are a few of our favorite shots from May Community Day in the League: