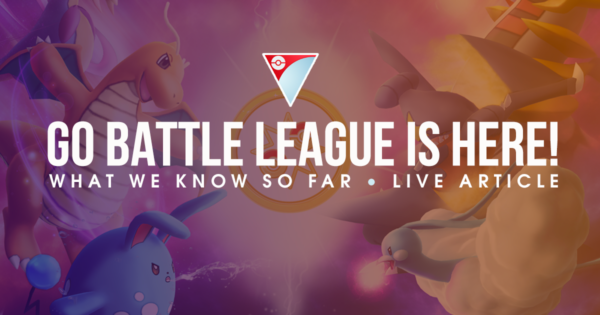 Note: This page will be live-updating as new info becomes available so make sure to check back often!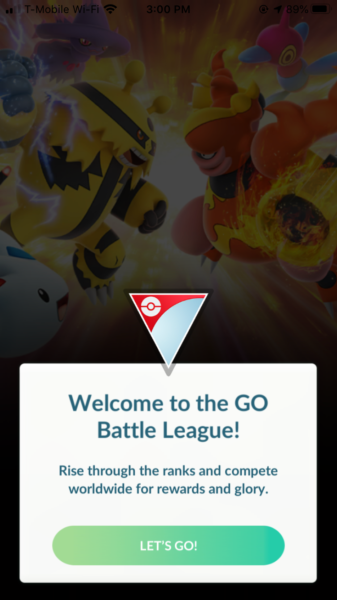 Grab your favorite battling Pokémon and dust off those walking shoes because the time has finally arrived: Go Battle League is live! This long awaited feature promises to show hold-out players the true excitement of Pokémon Go PVP, and reward those that rise to the challenge. By participating in Go Battle League, you'll be paired by rank with trainers all across the world in-game.
This feature is rolling out to level 40 players (soon to be followed by everyone else) around the world for its Preseason now! While the available info is still developing and we'll add as we get it, here are a few things you need to know in order to jump right in.
Train Before You Battle!
Just like any good coach will tell you, warming up is important before the big match. To battle opponents, you'll need to walk 3km to unlock your battles. If you're impatient, you'll be able to use coins to skip some of the walking once you've hit the 2km mark.
Once you have walked 3km, you'll be able to battle 5 times. You can bank up to an additional 3km at a time, preparing for your next set of battles. You can unlock your set of 5 battles up to 5 times in a single day. For the official launch, you'll get your first 5 battles free, no walking required.
---
Choose Your Fighter!
Go Battle League will take place in either Great, Ultra or Master League, based on a rotating schedule. All dates below officially change over at 1pm PST.
Preseason
Great League: Launch – February 10th
Ultra League: February 10th – February 24th
Master League: February 24th – March 9th
---
Reap the Rewards!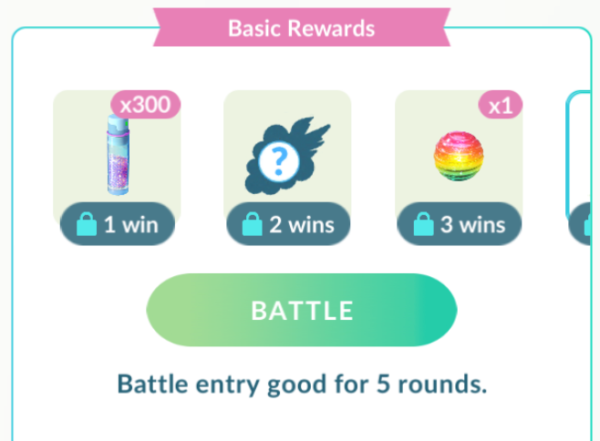 Battling will reward you with items, much like raids. Stardust, TMs, Rare Candies and Pokémon encounters are all possible, and by using a Premium Battle Pass (the new name for Premium Raid Passes, which now can be used for both raids and PVP), you can increase these rewards. With or without a pass, the winner will get better rewards. Choose wisely, your choice of prize tier stays for all 5 battles in the set!
---
Climb the Ranks!
As you battle (and win!) you'll climb the ranks in Go Battle League and not only face tougher opponents, but collect better rewards! Your rank will remain constant, you can't fall once you've achieved a higher tier each season, but your Battle Rating will fluctuate depending on how you fare against the opponents you face. Here's what you need to know to progress through the ranks:
| | |
| --- | --- |
| Rank 1 | Starting Rank |
| Rank 2 | Complete 5 Battles |
| Rank 3 | Complete 5 additional battles (10 total) |
| Rank 4 | Complete 5 additional battles (15 total) |
| Rank 5 | Win 5 battles (after achieving rank 4) |
| Rank 6 | Win 7 additional battles (12 total) |
| Rank 7 | Win 10 additional battles (22 total) |
| Rank 8 | Reach a Battle Rating of 2500+ |
| Rank 9 | Reach a Battle Rating of 3000+ |
| Rank 10 | Reach a Battle Rating of 3500+ |
---
Other things to Note!
As more information develops, we'll update this section with new articles, resources and information you'll want to know in order to master Go Battle League and climb to the top of the rankings!
Go Battle League battles now count toward Trainer Battle requirements in Field and Special Research tasks.
Walking distance requirement has changed from 5km to 3km.
The maximum amount of battle sets has been increased from 3 sets to 5 sets.
Battle Rating requirements for achieving ranks 8/9/10 and been raised to 2500/3000/3500 respectively.
Scraggy is the encounter reward once you reach Rank 4 (as long as you have already encountered Snorlax previously).
Original list of alleged awards (based on data found before release):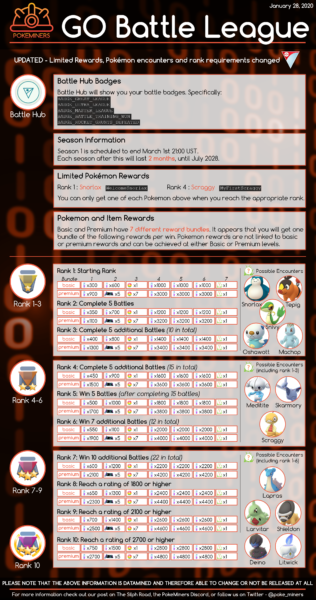 (Credit: Lewymd)